Industry Trends
How Infographic Marketing Benefits from QR Codes
What is infographic marketing and what do QR Codes have to do with it? Visual content like infographics is a great way to improve website traffic, and when you use QR Codes, you can conveniently redirect users from both print and digital platforms to your content via mobile. Not to mention you can customize QR Codes, track any related campaigns, and even edit them after printing!
What is infographic marketing?
Infographic marketing involves highlighting and displaying particular information in the form of images to show them in a more eye-catching manner than with written text. And the numbers prove that this works. Website content with images gets 47% more clicks and infographics, in particular, can increase web traffic by up to 12%. Infographics have become a popular form of visual content marketing because they add more creativity to blog articles, landing pages, and social media posts. Readers also spend more time looking at images on a page rather than text, so there's a heavy incentive for all brands to use more visual elements like infographics.
Why should infographics have QR Codes?
Infographics don't just work for digital marketing, they can also be used for print advertising. The important thing to note here, though, is that you still need a way to connect that print ad with a digital platform in order to track and drive purchases or another particular action from readers. This is exactly how QR Codes can help.
Connects print and digital
QR Codes are the most convenient way to connect print materials with digital platforms. When a pedestrian views a poster ad and would like to make a purchase, they need a way to easily find that link. Rather than trying to save or type it separately into their phone, which is often too much work, marketers should add QR Codes to their print ads to make things simple. All a user needs to do is scan the QR Code with their smartphone (all smartphones have a way to do this), and then they'll be redirected to your automatically mobile-optimized content.
Makes ROI for infographics trackable
The ability to connect print mediums with digital platforms is what enables clear campaign tracking and ROI calculations. With QR Codes, marketers too don't have to guess about what happens with their print ads. You can track the entire process from the QR Code scan up through a particular purchase, especially if you integrate your campaign with Google Analytics. With QR Code tracking, you can now optimize print advertising campaigns over different time periods, locations, and even different operating devices. Add an infographic to those print ads, and there's an easy way to drive clear and calculable traffic to a landing page.
QR Code image flexibility for all design requirements
The possibilities for customizing QR Codes are practically endless, both for the QR Code image and your QR Code's content. With the exception of Website URL QR Codes that automatically send users to your link, all other types of QR Codes come with a display page that optimizes your content for mobile. Depending on which QR Code you choose, this could be videos, images, sound files, social media links, coupons, events, and much more. Display pages can be customized with brand colors, headlines and descriptions, contact information, and a logo on the loading screen. You've also got the option to add a link to a customizable CTA (call to action) button that sends users to a particular landing page or other relevant links.
When designing your QR Code image, there are also many customization options here. You can give your QR Code custom frames with a CTA that drives scans, choose brand colors, and add your logo or another image in the middle for an extra branding boost. QR Code images can then be downloaded as JPG, PNG, SVG, and EPS files so you can add the QR Code to infographic designs and also do further customization on your own.
Pro tip: If you choose a Dynamic QR Code, you can edit them and change the type of QR Code whenever you need it. The external appearance stays the same, so you don't need to update any designs.
Matches user requirements on all platforms
The main reason why QR Codes have become so popular in marketing is that they enable multi-channel integration, meaning a combination of print and digital marketing. Whereas QR Codes connect print to digital by being scanned, their short URL is what readers click on to view content from digital platforms. Short URLs are useful because they make long links look a lot nicer on graphics and elements like social media posts, as well as increasing page loading times and security. Having both options means that you can engage users across all types of platforms with the same QR Code content, and track how successful those platforms are over time.
Examples of infographic marketing with QR Codes
If you're ready to use QR Codes on infographics, then here are a few examples to help you get off on the right foot.
Sales brochures
Brochures are a great place to use infographics because they're a combination of images and text anyways, and when you use an infographic style, it makes that information even more interesting to read. When you add a QR Code to this brochure, it makes it easy to promote a particular action as a result of that brochure. In this case, the brochures talk about a B2B conference that users can sign up for with an Event QR Code, which automates event registration and ticketing. By noting all of the benefits of joining the conference, readers become more interested in signing up.
Multi-channel marketing
We mentioned that QR Codes are extremely useful for multi-channel marketing, so one way you could do this is by combining print advertising with email marketing campaigns and a landing page. Let's say you would like to promote a particular app with an infographic, a common method that's used to promote the advantages of using special software. You could use the infographic on a billboard ad, within emails, and directly on the landing page to highlight a particular app's benefits. Then, no matter the platform a reader comes into contact with, they can always easily access the app through an App Store QR Code, which displays all relevant app store links and automates the app downloading process. You can also add images or an app trailer on an App QR Code display page so that the full app features are understandable for anyone who scans the QR Code.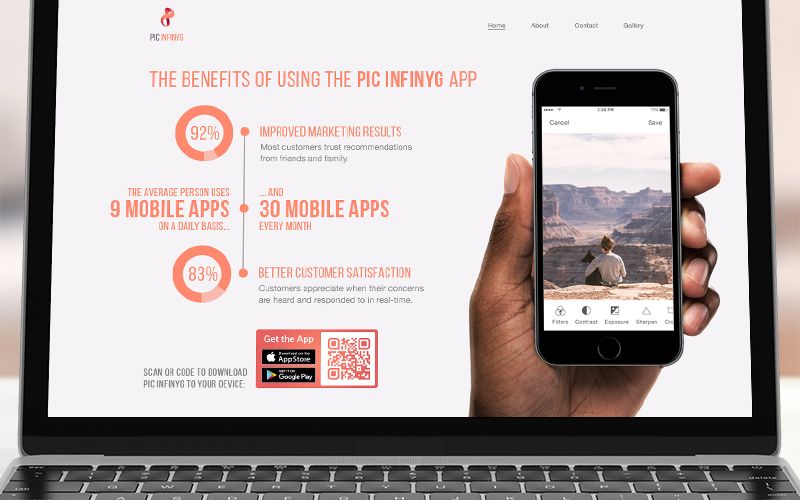 Print magazine ads
QR Codes can also benefit the e-commerce industry by highlighting the benefits of a particular product. In the image below, a magazine ad promotes a bike in which all the benefits of its design are outlined with an infographic. This type of ad could work really well in a hobby or niche magazine that caters to bike enthusiasts because it connects the ad directly with the related purchasing platform. Here you could use a Website URL Code if you'd like users to directly view a landing page, or maybe highlight the bike's features further with an Image Gallery QR Code or Video QR Code, that includes a CTA button to purchase the bike after getting a better overview of its features.
Blog articles
Infographics are commonly used in blog articles for all kinds of industries, so this is the perfect opportunity to connect a blog article infographic with a mobile platform. This visual element is absolutely crucial for the fashion industry, so infographics can be used to display text content in a more creative manner that caters to those audiences. For example, a fashion brand writes a blog article about the latest fashion trends and displays information with an infographic. This infographic contains an App Store QR Code to download their app to encourage mobile shopping.
Alternatively, they could use a PDF QR Code that directs readers to the latest lookbook, and then a CTA button sends them to a related landing page where they can directly make purchases.