Industry Trends
Improve Your CX With QR Codes on Product Labels
Product labels are an absolutely essential part of product packaging because they heavily influence customers' buying decisions. With QR Codes, you can improve your customer experience (CX) even more while increasing sales and boosting brand awareness.
Why do product labels matter?
Product labels are a crucial element of branding. With labels, consumers can tell where a product comes from and gives them a quick impression of why they should buy it. Consider something like a wine bottle. How many times have you bought the wine that had the prettiest label? Or maybe you've bought a device purely because the label said: "Made in Germany." Or you might only buy labels for products that are organic. That's how much labels matter. So when you're a brand that's determining how to develop labeling and product packaging, all aspects of what you'd like to convey with your label need to be taken into deep consideration. This includes aspects like price points, target group demographics, organic or non-organic, store brand vs. private label, and more.
Why your product labels should have QR Codes
There's another aspect of product labeling that has become popular: QR Codes. Why? Because they match perfectly with label designs, make your labels unique, and most importantly, they enable brands to use labels for marketing in a manner like never before.
Builds trust on consumer products
QR Codes can be used to share additional information about a brand by easily connecting users with digital links to view it. The following image is a great example—A Brazilian dairy producer uses QR Codes to connect consumers with information about where their milk comes from. Although they're one of the largest dairy producers in Rio, they want to make sure that consumers can see how the milk comes from just five local farms. With the ever-increasing demands on ingredient source transparency, QR Codes are a convenient way to give consumers access to this information.
Additional opportunity for branding
Particularly if you add a logo to the QR Code, there is an additional point for branding and marketing. In the image below, a fashion brand uses a Social Media QR Code on their clothing labels to promote their social media profiles. What makes this type of QR Code particularly great is that you can add all social media profile links on one convenient and mobile-optimized display page.
We mentioned above that you can track QR Codes for inventory management, but this also has an additional advantage: QR Code marketing campaign tracking. So, if you use QR Codes for branding or marketing with labels, you can understand precisely how effective those campaigns are. What's more, you can integrate QR Code campaigns with Google Analytics and monitor everything from the initial QR Code scan up to any related purchases later on.
Comprehensive customization options
You can style QR Codes to match any product label by adding brand colors, a custom frame with a CTA (call to action) like "Scan me", unique edges, and your logo in the middle. QR Code images are also downloadable as JPG, SVG, EPS, and PNG files to give you plenty of options for adding them to your own graphic designs.
PRO tip: The landing page that shows your QR Code's content is customizable as well (except a Dynamic URL Code that sends users directly to your link). You can give it more style with brand colors, your logo on the loading page, and add elements like a CTA button, social media links, a headline, contact details, and more.
Helps with inventory management
QR Codes don't just improve your customer experience but it also improves your internal management system. The need for better electronic labeling and inventory management is why QR Codes were originally developed. They improved upon their ancestor, the Barcode, because they could hold much more data, were more resistant to damage, and were faster. With the advent of the smartphone, QR Code technology has been implemented into daily life, because everyone can scan them. As a result, companies have begun using QR Codes on product labels for inventory management and marketing purposes simultaneously.
PRO tip: If you do plan to use your QR Codes for inventory management, you can track each time they are scanned directly in QR Code Generator PRO. Scan tracking data includes information on scan location (city and country), unique vs. total scans, operating device used, and total scans.
Editable content even after print
When choosing which type of QR Code to use for your product label, Dynamic QR Codes are often the best choice, because they are editable later on. This means that you always have the option to update the content on your QR Code display page and any connected links even after the QR Code is printed and in use. You can also change your type of QR Code (such as swap out images for a Video QR Code) without needing to redesign the QR Code's external appearance, giving you much more flexibility for how you use branding and marketing on product labels.
How to use QR Codes on your product labels
There are endless ways that you can use QR Codes on product labels and stickers. You can use them to grow social media followers, collect product ratings, share videos about your brand, encourage further purchases from a landing page, and much more. To give you an idea about how this works, here are a few concrete examples.
Collect ratings and feedback
By adding a Rating QR Code to a product label, you can gather ratings about your product, which sends an automatic email update every time someone leaves a rating. This strategy might be useful if you're testing different products and would like to know which ones customers like the best. Or if you're a new company, you can use ratings to improve the quality of your products. Alternatively, if you'd like to get a more in-depth overview of customer feedback, you can also use a Feedback QR Code, which creates a customized feedback form where users can include a lot more comprehensive information.
Share more information
Product labels are also the ideal place to add an additional upselling point. In the image below, the label uses a PDF QR Code to connect to a fashion lookbook for seasonal trends. On this particular QR Code display page, the user can view and download the PDF, as well as follow you on social media and visit your website. So, you could use this PDF to incentivize users to visit your website and make further purchases.
Direct customers to a landing page
You also have the option to send users directly to a mobile-optimized landing page with a Dynamic URL Code. This type of QR Code is beneficial for product labels, product packaging, or stickers in public places because users can access the link directly via smartphone and make a related purchase. This method is also beneficial because it converts your link into a short URL, which is basically a condensed and faster version of your link. When designing your QR Code, you can even customize your short URL for an additional branding element and so users trust where the link originates from.
Enable access to a tutorial video
Slogging through a user manual for a new device purchased online is the absolute worst. You can make this process so much simpler for customers by adding a Video QR Code directly on the product packaging so they can automatically access the exact video tutorial for how to use that particular product. You've also got the option to add a CTA button to the display page for that video to encourage further purchases. Overall, easily accessible video tutorials most certainly decrease the chance of product returns.
Offer deals and discounts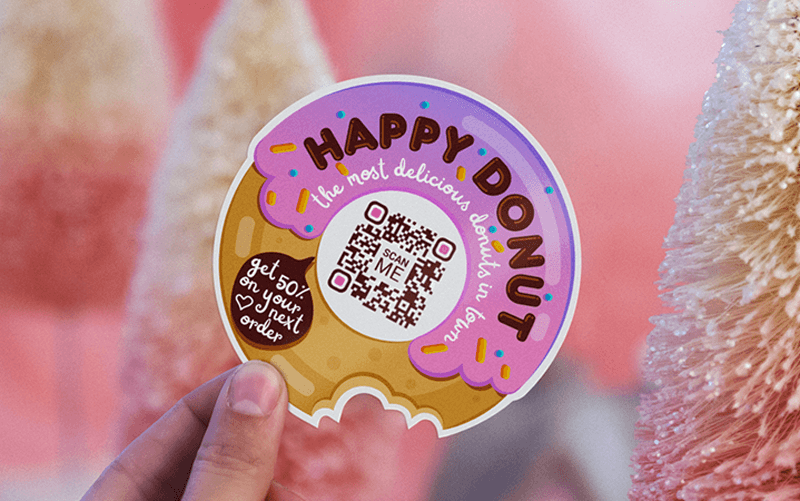 Product labels and stickers can also be used to promote coupons for additional purchases. For example, a Coupon QR Code could be used on a sticker in a food delivery box, which could either promote additional purchases of the same type of food at a discount or other types of related purchases.