COVID-19
Easily Generate Online Revenue With QR Codes
In the wake of coronavirus, it has now become more important than ever before to find ways to generate online revenue. Physically-located and service-based businesses must be creative to find ways to digitize their processes and keep engaging with customers. Find out how you can continue making sales online with QR Codes.
Tough financial times for businesses during the coronavirus
Small businesses, especially those that are physically located businesses like salons, gyms, and restaurants, are facing a uniquely difficult challenge during the coronavirus pandemic. After government mandates to stay closed, foot traffic has come to a complete halt and business owners are wondering how they can continue to survive this hefty financial hit. Some financial experts predict that by the end of June, nearly half of small businesses in the US might be gone, a very scary world for what was a booming US economy prior to the coronavirus. The below image suggests that people will continue to avoid public areas as long as the threat of the coronavirus persists.
A new focus on online platforms
On a global scale, businesses have begun turning to the only option available to generate revenue: online. Although the majority of businesses have experienced some financial losses due to the coronavirus, the e-commerce industry has an advantage over physically located businesses, because they are already designed to generate online revenue and also offer options like home delivery, which has skyrocketed. For other businesses, the process is not so simple, especially if you have no online processes set up beforehand. Nonetheless, the current situation has become a motivator for all types of businesses to find methods for generating online revenue in order to stay in operation. This includes promoting online shopping platforms, online courses, webinars, online events, video tutorials, and much more.
Why companies are turning to QR Codes to generate online revenue
In order to generate online revenue, you need digital tools to do so. QR Codes fit perfectly with all digital marketing tactics because, in addition to the QR Code image, QR Codes are also connected to a short URL. This short URL creates a neat and speedy version of all your content that then directs users to a customizable display page that showcases things like images or videos. On this page, you can include a CTA (call to action) button that encourages users to view a landing page and make a purchase.
Continue revenue generation during a crisis
There are two ways that businesses can use QR Codes to generate revenue. Firstly, you can use QR Codes on digital platforms like social media, email marketing, or landing pages.
Secondly, and this is the most relevant for physical businesses, you can use QR Codes to connect print advertisements and other print materials to online content. To clarify how this works, we can take the example of a restaurant. Restaurants aren't currently open to the public, so many have begun implementing online ordering systems for delivery and takeaway to stay in business. But you still need to give customers a way to access this online ordering system.
So, you can use your physical restaurant space as an advertisement for this. Put the QR Code on your restaurant window, on any display signs you have outside, on any visible posters, and even company vehicle ads. You may also consider paid advertising methods like billboards and magazine ads to help spread the word that customers can still access your food online by using a QR Code to connect to a particular booking platform.
Easy and safe for customers to use
The driving force behind QR Code's popularity during the coronavirus is that they enable contactless mobile payments and information transfers. Unlike NFC technology that requires physical contact and has a minuscule radius, QR Codes can be scanned from very far distances. As long as the QR Code is large enough and has good enough image quality, there is basically no limit to how far away users can scan QR Codes. In the image below, even though the billboard is higher up, the QR Code has been made large enough to be scanned from afar.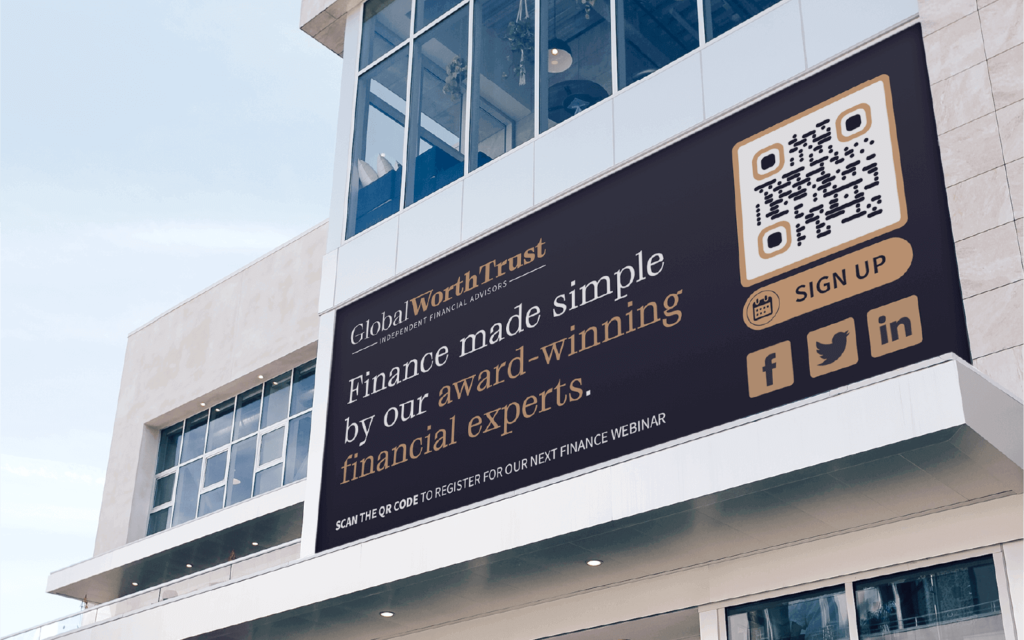 Setting up online shopping is an investment for the future
Online shopping was becoming a must-have for businesses long before the coronavirus pandemic hit, and it will continue to become ever more important in the future. 63% of all shopping occasions begin online, and 62% of those online shoppers make purchases at least once a month. In addition, smaller stores that have mobile shopping options available may see up to 30% higher mobile conversion rates over large retailers. So, QR Codes are the perfect way to promote mobile shopping channels, because they create mobile-optimized content. If businesses take the opportunity to set this up now, they will continue to reap the rewards even after the coronavirus is over.
Wide variety of QR Code types
There are many different types of QR Codes that can be used to direct users to online shopping and purchasing platforms. These include videos, images, apps, digital coupons, social media links, websites and landing pages, events, sound files, and more. All QR Codes are completely customizable both externally and on the QR Code display page. They can also be tracked in order to optimize and monitor any marketing campaigns.
Examples of how brick-and-mortar businesses can use QR Codes to generate online revenue
In addition to the restaurant example we mentioned above, other physically-based businesses can use similar tactics to use QR Codes to promote online shopping and digital platforms that result in online revenue.
A gym promotes a workout app with workout videos
Gyms and fitness studios are another industry that is currently experiencing tough financial losses due to the coronavirus and social distancing regulations. Nonetheless, they can use this as an opportunity to direct users to workout apps with paid workout videos. Not only does this enable customers to continue working out from home, but it also gives fitness trainers the opportunity to continue working remotely. For example, a gym could use email marketing to its customers to notify users about the app by adding an App Store QR Code to the email or Instagram ads. Then, users can download the app and purchase workout video packages from their favorite trainers or type of exercise they'd like to do.
A salon promotes a Youtube channel with skincare tutorials
Although salons can't provide many of their services they once did to customers, they can use other forms of advertising to generate revenue, continue communicating with customers, and even engage new ones. For example, a salon could use their Youtube channel to promote skincare tutorials with a Video QR Code on a landing page, print advertisements, and on salon windows. As the Youtube channel grows, the revenue from ads also increases (this is the basic concept for how Youtube channels are used to make money). Furthermore, you can use this channel to promote particular brand products that users can purchase online. Then after the coronavirus is over, you'll have an extended customer base to continue selling products to, as well as incentivize customers to come to visit your shop.
A fashion retailer promotes online and mobile shopping
We highlighted above the importance of mobile shopping for the e-commerce industry, so fashion retailers can use this demand to generate revenue during the coronavirus. If you'd like to direct users to a mobile app, you can use an App Store QR Code. Alternatively, if you'd like users to shop online in general, you could use a URL QR Code or possibly an Image Gallery QR Code if you'd like to showcase particular products and then direct users to a landing page. All of these QR Codes could be placed on storefronts, share in email marketing, and print advertisements like magazine and billboard ads.
A travel agency promotes virtual tours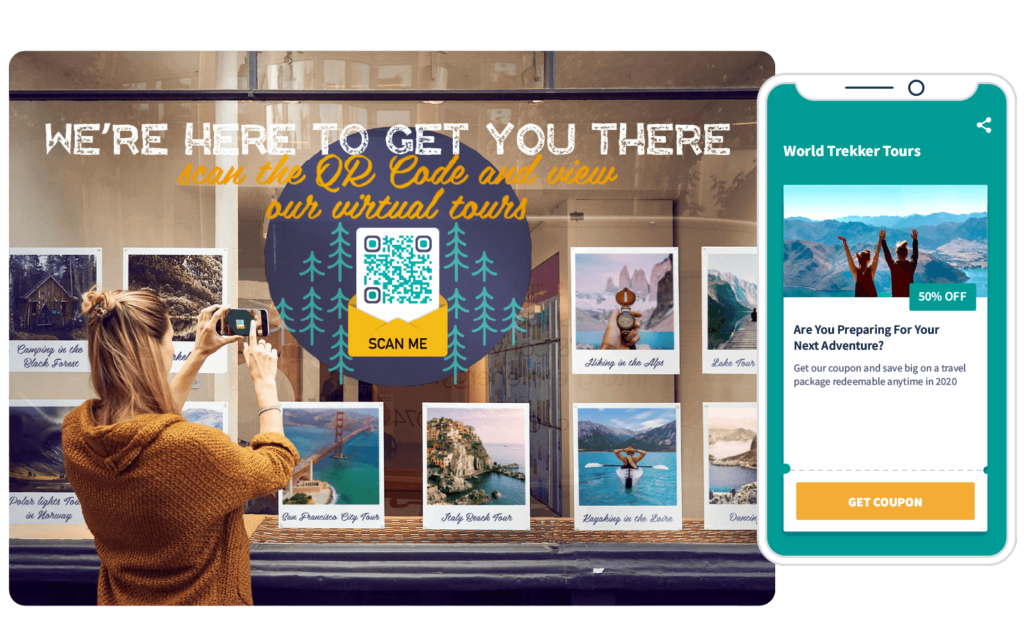 As of late, the travel and tourism industries are unfortunately at a standstill. However, it's a guarantee that as soon as the world can travel again, they will be hungry for it, and travel agencies and tourism businesses need to be prepared for massive demands. One way to create interest in your particular travel brand is to host virtual tours. Although users can't experience travel in person now, you can still get them interested in certain travel packages later on. You can promote virtual tours with digital marketing tactics, and then incentivize followers with discounts for future bookings, such as with a Coupon QR Code in email marketing that is redeemable through a certain date.