Best Practices
Improve Your E-Commerce Marketing Results With QR Codes
Due to technological advances, many businesses have made e-commerce marketing their main goal. The next step then is to find a way to streamline and automate marketing and sales processes. How? Ever considered giving QR Codes a try? They can be used across multiple channels, are customizable for your brand, and even come with tracking metrics essential for marketing campaigns. What's not to love?
What is e-commerce marketing?
The term e-commerce describes any products or services that are sold online. There are three main categories: B2B (business to business), B2C (business to consumer), and C2C (customer to customer, i.e. Facebook Marketplace). Ecommerce marketing is, therefore, the process used by businesses to promote their online products or services to other businesses and consumers, or in some cases, both. Ecommerce marketing can be done via both online and offline platforms, or a combination thereof. The main point though is that the items are purchased online.
The benefits of e-commerce marketing and sales
Ecommerce businesses have experienced explosive growth throughout recent times. Digitalization has allowed access to new markets in quicker periods of time. Users also come in contact with more global brands than ever before due to technology like smartphones and increased internet penetration rates. But why exactly do e-commerce products sell so well?
Better access to target markets
Before much of modern technology existed, you had to rely on your network to get in touch with foreign markets. The further away those markets were, the harder and more costly they were to reach. Online platforms and marketing tools now provide access to these markets easily. You can now test out locations, market to extremely niche audiences, and even offer complete personalized marketing at an individual level, all directly from your computer.
24/7 marketing and sales
If you've got a website, this essentially does marketing for a company around the clock. Of course, we still need customer service and sales reps (soon maybe not with chatbots?!), but it's still possible for businesses to generate sales even when they're "closed" and no real employees are working. This has lessened the frustration for a customer because they don't need to wait for opening hours and can shop whenever they feel like it.
Less cost
Digital businesses oftentimes cost less than physical locations, because the personnel that would be handling the store can be aided by website features, while the bulk of the funding goes towards warehousing and product management, all of which can be automated. With less operational costs, this means bigger budgets for digital marketing and sales, which in turn generates more online purchases. This cycle is largely responsible for how successful the commerce industry has become.
QR Codes: The ideal e-commerce marketing tool
We've covered the why, so now let's answer the how. E-commerce marketing requires a tactical strategy and valuable tools, one of which is QR Codes. QR Codes come with metrics for marketing campaigns, are great for brand awareness, and can be used in every possible way you need. Furthermore, QR Codes always have mobile-ready content so you can reach both desktop and mobile users.
Trackable conversion rates
If you're planning to use QR Codes in marketing campaigns, opt for a Dynamic QR Code as opposed to a Static version. Static QR Codes can be customized, but not edited once printed. However, Dynamic QR Codes can be updated and edited at any time, as well as customized. Dynamic QR Code tracking comes with metrics including location by city and country, unique vs. total scans, operating device used, and time scanned.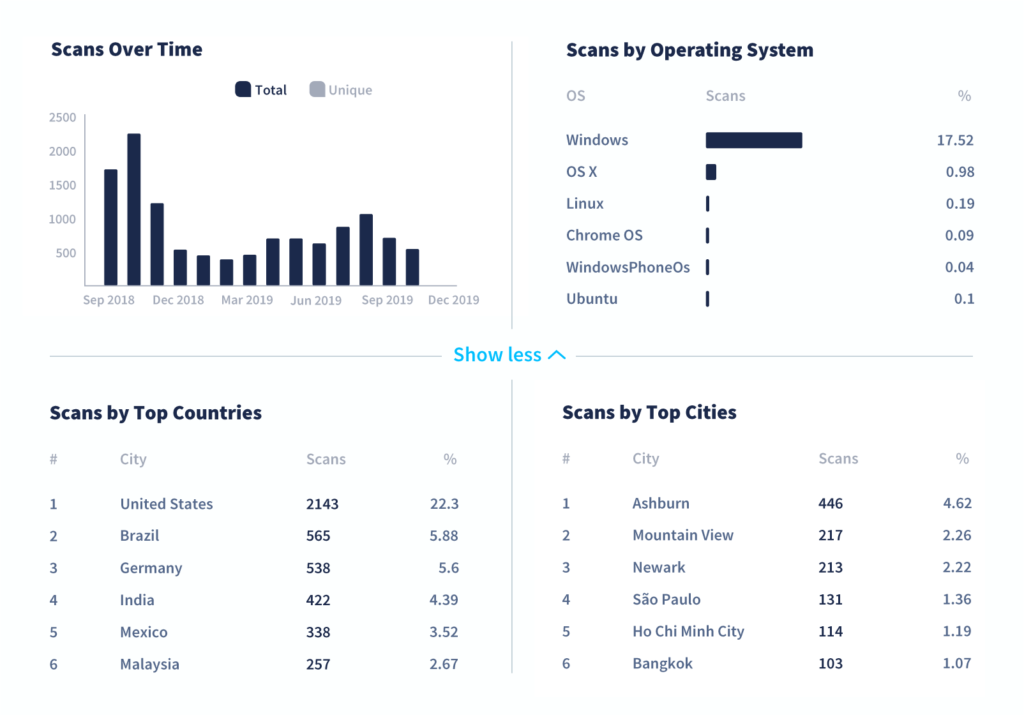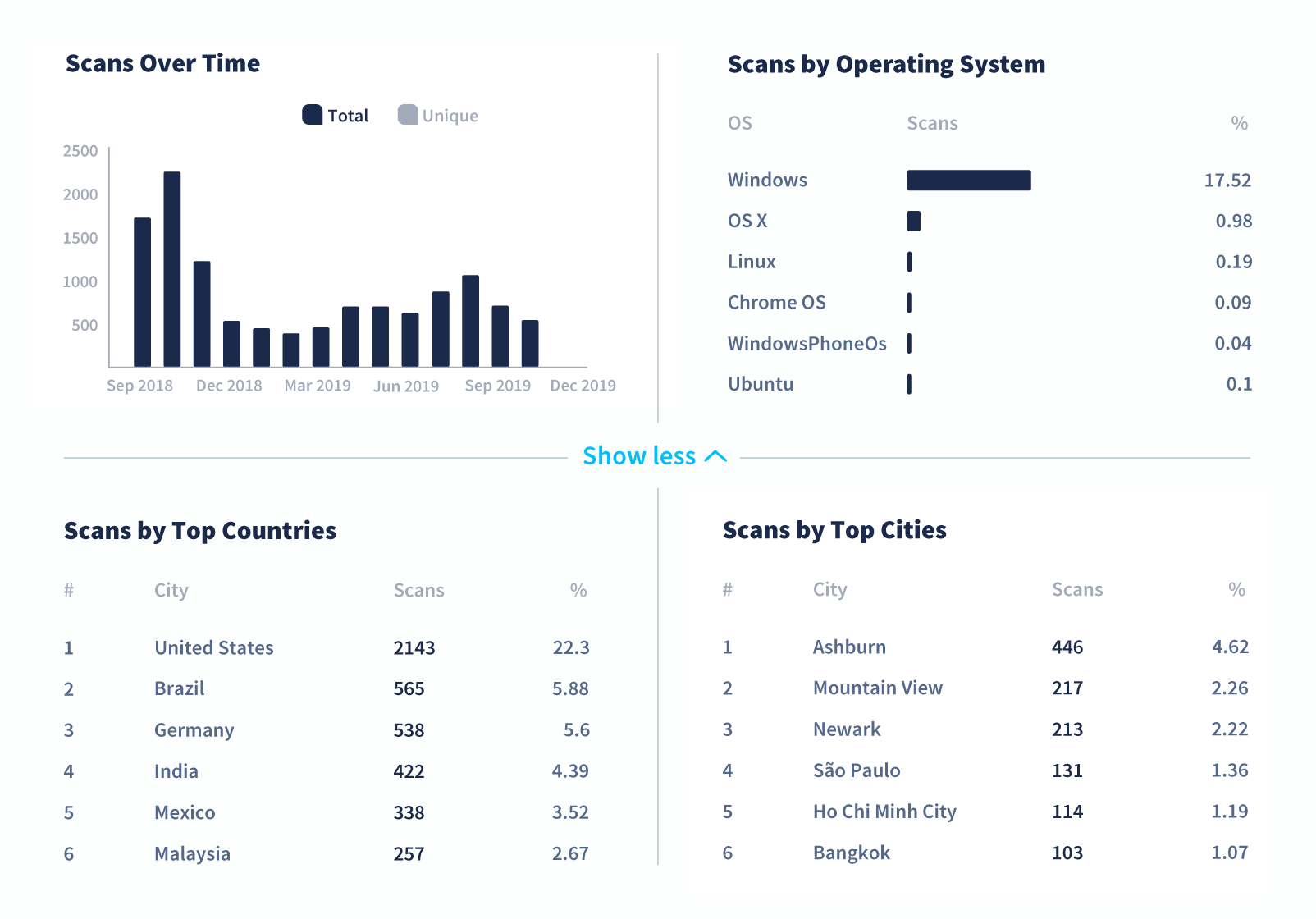 The editing and tracking capabilities for Dynamic QR Codes are what enables marketing campaign optimization. Test out QR Code campaigns over different time periods and locations, or even for different types of products. Furthermore, the entire customer journey after the QR Code scan can be integrated with Google Analytics so that the exact conversion rates generated from specific campaigns are clear.
A single QR Code that works on multiple channels
QR Code Generator has developed various QR Code types that link to every type of digital platform possible. Whether you'd like to share videos, get more app downloads, increase social media engagement, direct users to a landing page, and more, all of this is possible with QR Codes. QR Codes can also be placed on social media images, on websites, and on many types of print materials such as posters, vehicles, and in magazines.
Endless customization
Your brand awareness gets an additional boost with QR Codes as well. QR Code Generator software facilitates the customization of QR Codes with brand colors, custom frames, fun edges, a logo in the middle, and a special CTA (call to action). So, be it a poster, an email, or even a sticker, your QR Codes all showcase your brand.
Common e-commerce marketing methods
A good e-commerce marketing strategy doesn't put all its eggs in one basket, but rather uses a combination of methods to diversify and therefore increase total online presence. Furthermore, many digital marketing methods work more efficiently when combined, as long as there is continual oversight on the process and congruency between all the methods. Here are some examples for QR Codes could be used per type of marketing method.
Social media
Social media marketing has two sides: paid and organic (unpaid). When done properly, paid social media ads can be extremely effective in selling e-commerce products. In terms of e-commerce, they are often used for special offers, to boost new products, or sell items at a discount. You've likely noticed the heavy amount of social media ads used for holiday sales like Black Friday and Christmas, as this method is known to be wildly successful.
Put a QR Code on it: For example, you have the goal of increasing app downloads with social media ads. You could add an App Store QR Code to the ad so that if a user views this ad on desktop, they don't need to separately search for the app on their smartphone. They can simply scan the QR Code and download the app directly.
Organic social media works rather off a business's particular page feed. A company posts items there that their followers see, share, and engage with, in which this process is unpaid. The goal here is to encourage purchases based on the usefulness of this content. While paid social media ads can bring quick success and should be used in combination with organic social media marketing, organic social media is more of a long-term content strategy but is great for customer retention.
Put a QR Code on it: Businesses who promote organically on Instagram have a major issue, which is that Instagram doesn't allow direct links on organic posts. They only appear in plain text, meaning that you have to add the link you're promoting either in the bio or as a part of an Instagram story. QR Codes solve this issue because users can access your information via the QR Code directly, instead of having to search around for the link.
Email marketing
Email marketing has one of the top ROIs (return on investment) of all digital marketing methods: for every $1 you spend on email marketing, you can expect an average return of $32. Email marketing works well for e-commerce products as a retargeting method. Often the process works like this: there is an email opt-in on a website or other platform to receive updates, which works regardless of whether a person has made a purchase as long as they have given consent. The user then receives emails later on with specialized offers based on their history on the website in order to provide an extra incentive for them to make a purchase.
Put a QR Code on it: Let's say your goal was to get holistic social media engagement based on an active email list. You could add a Social Media QR Code that links to all your channels in one email so it's easier for users to access them via mobile in one easy mobile-optimized page, instead of having to click on multiple long and ugly links.
Websites
With QR Codes, you can both direct a user to a website with a Dynamic URL Code, as well as use QR Codes directly on landing pages themselves. If you're promoting from another platform, Dynamic URL Codes are what you'll want to opt for. But if you're wanting to use a QR Code on your landing page, there are many reasons to do so.
Put a QR Code on it: Many e-commerce platforms also offer mobile versions. Maybe you have better conversion rates on mobile, or simply want to boost the mobile side of your conversions. You could add an App Store QR Code to landing pages to divert desktop users to your mobile-based stores on an app.