Best Practices
Simplify Donation Collection with QR Codes
What if there was a way to make donation collection fast, hassle-free, and cashless? Thanks to QR Codes there's nothing standing in the way of using a QR Code for donations. Not only do they enable mobile payments by sending users to donation landing pages, but they can also be added to print and digital mediums — all of which have trackable results!
How do QR Codes make donation collection easier?
Cash is becoming a thing of the past. The Salvation Army recognized this when their traditional donation method collections simply stopped working. In the past, they would stand in front of grocery stores with volunteers who collected small cash donations in buckets. But after endless complaints that people didn't carry cash, they knew they needed to modernize their strategy. Consequently, they transformed their outdated donation collection procedure by introducing contactless payments with QR codes. Soon after, their donation numbers skyrocketed.
Better for cashless payments
Using QR Code for donations allows nonprofits to collect donations in two ways: you can connect users with a mobile payment platform, or you can direct them to a payment landing page with a Dynamic URL QR Code. Either way, the payment can occur via mobile and completely without cash. Using this method also means that you don't need to have a person who is monitoring a bunch of cash. Payments via QR Code can happen any time, day or night, through the user alone, which is less risky and requires less time and effort on behalf of the charity organization.
Flexible uses
Because QR Codes do not have any minimum scan distance, you can use them on something as small as a business card for non-profit employees or as large as a billboard ad. You only need to ensure that the QR Code image is the appropriate size and has high enough image quality to be scanned from the distance you expect users to stand from.
QR Codes for donation collection work on both digital and print mediums, too. When you create your QR Code, it automatically comes with a short URL. This QR Code short URL works in the same manner as URL shorteners on social media do in that they reduce long links. You can even customize it for an additional bit of branding. If you share your QR Code's content on something like a Facebook post, you only need the short URL for users to click on, which works perfectly when you want to boost awareness for fundraising campaigns across multiple channels. Through the short URL, the user is still connected to the same QR Code content.
Tracking & editing
When you opt for a Dynamic QR Code, you're choosing the most powerful type of QR Code because they come with tracking data and can be edited later on. Regarding tracking, QR Code Generator has enabled an overview of scan data for all Dynamic QR Codes. This includes scans by location (city and country), time scanned, operating device used, and unique vs. total scans. This data makes it simple to understand how many donations a particular QR Code brought in and on which medium.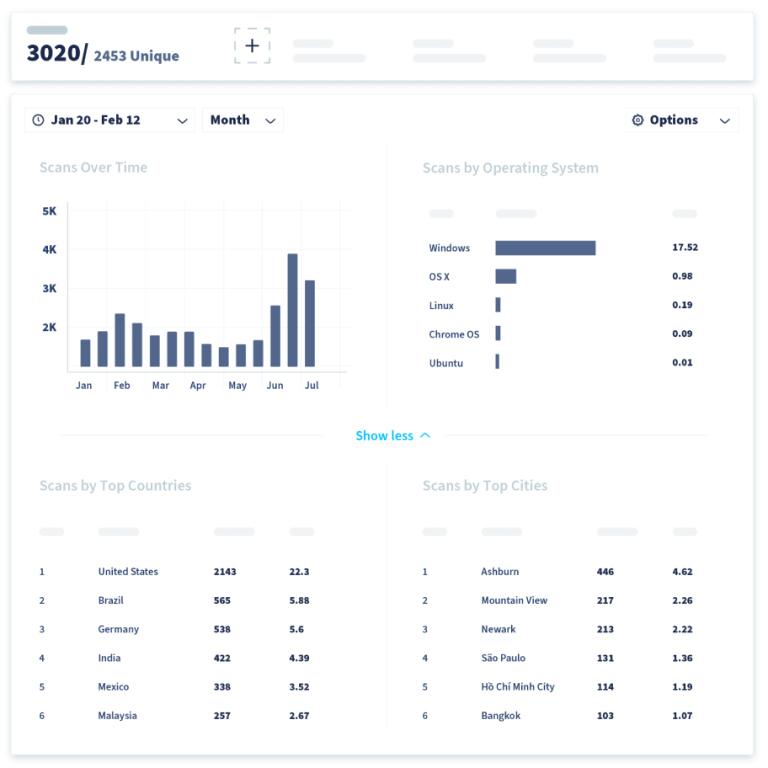 The other benefit to Dynamic QR Codes is editability. All the content connected to your QR Code, such as links, images, videos, or anything else, can always be updated without having to redesign your QR Code. You can even change your type of QR Code (like using a landing page link instead of a PDF) without needing a new QR Code. So, there are no issues involving reprinting due to accidental mistakes or updates!
Customization
Your QR Code does not detract from your graphic designs but rather adds to them. They're styleable according to your brand colors, a custom frame, editable CTA (call-to-action), different edges, and your logo in the middle. You also have the option to download in four different image file formats: JPG, SVG, EPS, and PNG, giving you a full range of QR Code styles and customization possibilities to adapt them to each graphic design.
Useful for other aspects of fundraising events
QR Codes are useful for much more than just donation collection. They also enhance the entire fundraising event process. You can use an Event QR Code to plan your fundraising event, a Feedback QR Code to get feedback on how satisfied attendees were, and even make your event itself more interactive with elements like a Video QR Code and a Social Media QR Code that enable attendees to view more information about your organization. With QR Codes by your side, the fundraising possibilities are endless!
6 Donation collection ideas with QR Codes
Donation collection does not simply have to mean asking people for money. You can get creative with fundraising campaigns to build awareness for what your organization does. When your audience understands the value of your cause, they'll be much more likely to donate. To help you get off on the right foot, we've outlined some creative ways to collect donations with QR Codes.
#1 Poster ads
If you're going for a local approach, you might consider using a QR Code poster like Air Ambulance UK did for National Air Ambulance Week 2020. They launched a campaign to fundraise, support, and celebrate the heroic efforts of air ambulances in the UK. Part of their campaign also integrated the QR Code into their poster ads where a passerby on the street could quickly scan to donate.
We recommend placing such poster ads in public areas where there's likely to be a lot of foot traffic. Another important tip here is to add your logo to the QR Code, which ensures users that your QR Code is safe to use and donate with.
#2 Brochures
Whether you're handing them out at a fundraising event or in public areas, brochures are the ideal place to use QR Codes to collect donations. People who are interested in donating can either scan the QR Code then and there, or they can take the QR Code Brochure home and donate later on. Either way, they have automatic access to your donation page link and can complete a transfer in just a few seconds.
#3 Giveaways
You could also consider creating a QR Code giveaway to boost donations. One way to do this would be to partner with a company that sells products related to your cause. Take Heinz as an example. They partnered with the Wounded Warrior Project to raise funds for veterans by placing QR Codes on the Heinz tomato ketchup bottle. For every scan, Heinz donated 1$ to the project.
#4 Videos
If you want to truly get creative with digital fundraising techniques, you can integrate QR Codes with video conferencing calls just like The Giving Room. This nonprofit initiative partners with other businesses and charities that display donation popups and QR Codes for donation collection during their video conference calls. Those who wish to donate can simply scan the QR Code.
#5 Fundraising events
One of the most effective methods how to collect money for donations is to host a fundraising event. DKMS, (translated as German Bone Marrow Donor Centre in English) is known for hosting an Annual Fundraising Gala event. But with the coronavirus in the mix, they had to put the creative caps on to continue the event. So, in 2020, DKMS UK teamed up with Good Thyngs to host their first-ever virtual fundraising event.
The event was undoubtedly a success: donors were presented with cashless payment options — including the QR Code, which led to a 38% conversion rate. QR Codes offer a simple solution for how to collect donations for a fundraising event.
#6 TV commercials
If your goal is to reach the widest audience possible, QR Code ads on TV commercials can be used to send a powerful message to a global audience. When you add a QR Code to the final section, this streamlines the donation process because viewers do not need to look up any links later on (which they're not likely to do anyway). They can simply scan the QR Code and donate directly after watching the commercial.
Plus, when you combine QR Codes on TV commercials with their tracking data, you can even understand which locations the QR Codes were scanned from, which gives insight on who your message resonated with the most and where to continue focusing your fundraising efforts.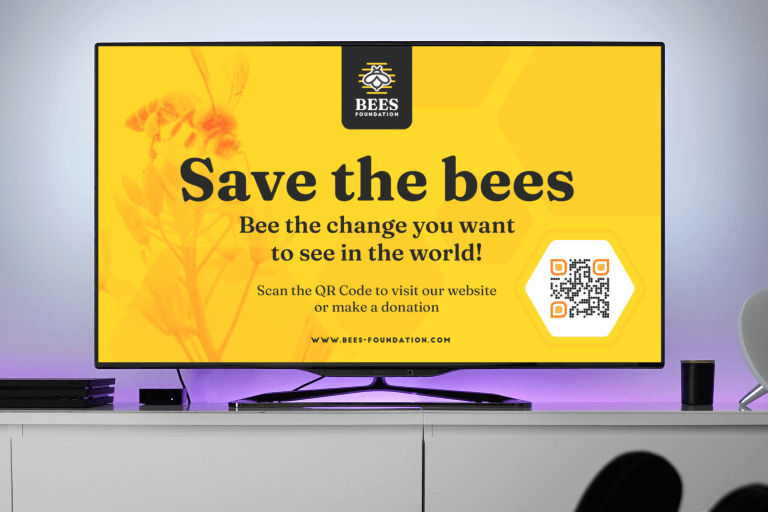 Using QR Codes for donations is an effective way to amplify your donation collection with minimal effort. QR Codes simplify donation collection from creating seamless cashless payments to flexibility benefits and more! By Incorporating QR Codes into your poster ads, giveaways, brochures, videos, fundraising events, and TV Commercials, you'll expand your donor reach. If you're looking for the best way to collect donations online, QR Codes are your trusted allies.