Best Practices
Amplify Your B2B Marketing Strategy With QR Codes
B2B marketing has never been more competitive than it is today. Companies have to use clever and inventive methods in order for potential partners to take notice. This is why QR Codes are the ideal solution for a B2B marketing strategy, both in terms of marketing campaigns, as well as business processes themselves.
What is B2B Marketing?
B2B stands for business to business, meaning that B2B marketing refers to the process of marketing products or services from one business to another. B2B marketing comes in many formats such as:
SaaS (software as a service, such as Mailchimp or Hubspot).
Security solutions.
Business tools.
Accessories.
Office supplies.
Business consulting.
Lead generation services.
In general, B2B can be described as any business conducted between two or more companies that results in purchases from other businesses.
B2C vs B2B Marketing
B2B differs from B2C marketing, known as business to consumer marketing. B2C refers to the process of marketing products or services directly to end-users, such as fashion retailers like H&M and Zalando. Many companies have products or services available for both audiences. The appropriate strategy and audience depend entirely on the individual company and its goals.
How can QR Codes support a B2B marketing strategy?
The B2B world is highly competitive and becomes more so by the day. As a result, it's important that you find a B2B marketing strategy that showcases your USP (unique selling point). With so many similar businesses, you have to provide a compelling story, no matter whether B2B or B2C.
Particularly with the B2B industry, much of the marketing attention goes to lead generation, which involves various forms of marketing and networking to get in touch with potential new customers. This makes QR Codes the ideal partner for B2B industry businesses because they are an innovative and unique marketing solution, as well as can be easily combined with internal business processes. Take a look below for some examples of how this works.
Digital business cards
Business cards are an absolute must for every business. Even if you're a solopreneur, the first thing you need to start networking is business cards. Nonetheless, printed business cards come with some limitations: they are extremely limited in space, are easy to lose, and their standard formatting can get lost in the crowd.
The perfect solution to this is a vCard Plus QR Code, otherwise known as a digital business card. Have you noticed that LinkedIn already uses this same QR Code solution for adding contacts quickly? That's because QR Codes streamline the process of adding contact details to your phone. And not only this, QR Codes made with QR Code Generator are completely customizable, editable at any time, and maximize the information that a contact reads once they scan your QR Code. Now your business card is not limited to a few simple lines, but also includes social media links, a Google Maps location, and a description of your business.
Share important business info on the go
The same premise of upgrading business cards works hand in hand with any print material. You can add other types of information to your business card as well, such as a resume with a PDF QR Code. Or if you're handing out flyers or brochures, add a QR Code to them to link to additional information such as event registration, a business page, videos, images, and more. The solutions are basically endless and make networking events and conferences a breeze.
Campaign tracking, editing, and testing
QR Codes are fantastic additions to marketing campaigns as well. A huge advantage is that they provide detailed tracking information: location by city and state, time scanned, operating device used and total vs. unique scans.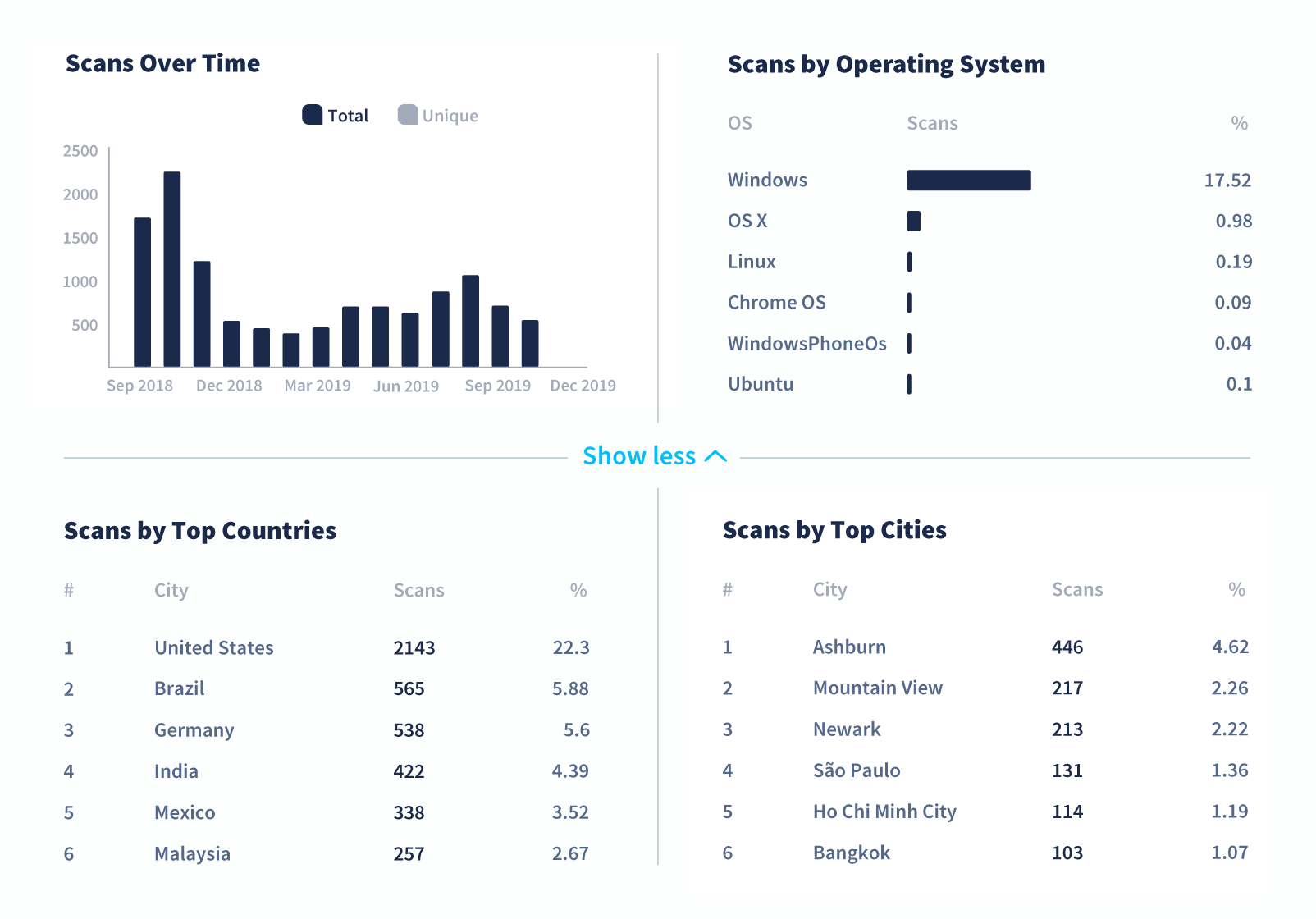 For any marketing campaign to achieve the best possible results, it's important to experiment, track metrics, and optimize. All Dynamic QR Codes come with this valuable tracking data that allows for campaign comparisons across different time periods and locations. Combine this with Google Analytics data to follow a customer's entire purchasing process and you've got a recipe for marketing and sales success.
What's more, Dynamic QR Codes can be edited. So if you've accidentally made a mistake in your short URL, want to update a link with a newer version, or even if you want to change the type of QR Code used (for example use a video instead of images), this can be done at any time without changing the appearance of the original QR Code. This saves on time and costs for materials that would otherwise need to be reprinted.
Custom designs for better branding
Brand awareness is an important factor in B2B marketing's success. According to Forbes, color improves brand recognition by up to 80%. Any marketing materials and campaigns should use brand colors so that users associate a certain message with your brand. Fortunately, QR Codes come with complete customization options, including custom frames, an option to add a logo, a professional-level color picker, and space for a special CTA (call to action). No matter whether your QR Code is on social media, in an email campaign, or is placed on products, it can be matched exactly with your brand's style.
Print material and event marketing
Many B2B companies host events or conferences to improve their networking and get new leads. QR Codes have benefits both for marketing your event, as well as enhance print materials during your event. For event marketing, you can use Event QR Codes to ease the process of event registration as well as enable attendees to directly add all the event details into their calendar.
During the event itself, you can add QR Codes to posters and banners that add videos, images or business pages. You can increase social media followers with Social Media QR Codes on any print materials, and even gather feedback on the success of your event with Feedback QR Codes. When combined with tracking metrics, you can calculate the exact ROI from all of your events, something that beforehand was based on educated guesses.
QR Code API
If you're not looking to use QR Codes for marketing campaigns, don't require tracking data, and need a large amount, such as for ID badges at a conference or for technical product documentation, QR Code Generator also offers QR Code API. These are Static QR Codes (uneditable) used in large batches that still contain customization options for colors but also come with simple black and white options.
B2B marketing examples with QR Codes
Now that you've got an idea for how QR Codes can be used for B2B marketing, let's take a look at some use cases with concrete examples.
A B2B mobile software startup that needs more app downloads
SaaS is an extremely cutthroat and quickly advancing industry. Many software companies depend entirely on the network to gain traction and get new leads as startups. 79% of B2B marketers credit email as the most effective distribution channel for demand gen efforts, making email marketing an important part of many B2B marketing strategies. Add an App QR Code to email campaigns, which streamlines the process of the app download, while also giving you an effective tracking method to calculate email marketing ROI.
A hotel searching for corporate business partners
Luxury hotels and resorts often market to the business world with the intent of bringing in high-value customers as corporate business partners. Corporate business partners could be both people who'd like to host events at a hotel, as well as provide a steady influx of business hotel guests who are attending their own business meetings. Finding the right partner for a long term relationship could make or break this endeavor. A luxury hotel could use the strategy of print ads at other corporate events, at nearby locations or even on their own property to entice potential partners using Gallery QR Codes. They can use this information to then generate leads for potential partners and compare who is the best fit.
Business consultants looking to improve LinkedIn presence
Did you know that a whopping 94% of B2B marketers on social media use LinkedIn to publish content? As a result, LinkedIn is often the core of a B2B marketing strategy. And what better way to get more LinkedIn followers than by adding Social Media QR Codes business cards, event flyers and brochures, as well as banners at conferences. If you've used Dynamic QR Codes, you can now calculate the exact increase in engagement attributed to QR Code usage.